Schiphol International Airport, 45 miles or 60 km from Rotterdam, is the most user friendly airport in the world and the 4th largest in Europe. Schiphol Airport has already repeatedly earned the accolade of being the worlds favourite airport. Schiphol is a major international hub and transfers about 60-65 million passengers a year and is the Gateway to Europe. Schiphol station has six direct train connections per hour to Rotterdam Central Station, which is situated in the middle of the city. You can travel to and from Rotterdam Central Station in just 45 minutes by regular intercity train service. The journey time is reduced to just 26 minutes if you take the NS Hispeed train service.
Rotterdam The Hague Airport is a comfortable and easy regional airport, situated at approximately six miles from the city centre. Travel times between the airport and the city are excellent: fifteen minutes by taxi and twenty minutes by public transport (airport shuttle) to Rotterdam Central Station. At Rotterdam The Hague Airport, flights are continually landing from the major cities of neighbouring countries. Serving 34 destinations, Rotterdam The Hague Airport has regular flight connections to many major European cities.
International direct trains to Belgium, France, and Germany depart many times a day from Rotterdam Central Station. Antwerp takes less than 30 minutes, Brussels one hour and ten minutes, and Paris can be reached within two hours and 36 minutes. By ferry from the UK, Rotterdam is directly accessible via two connections: Harwich – Hook of Holland and Hull – Europoort or via Belgium and France.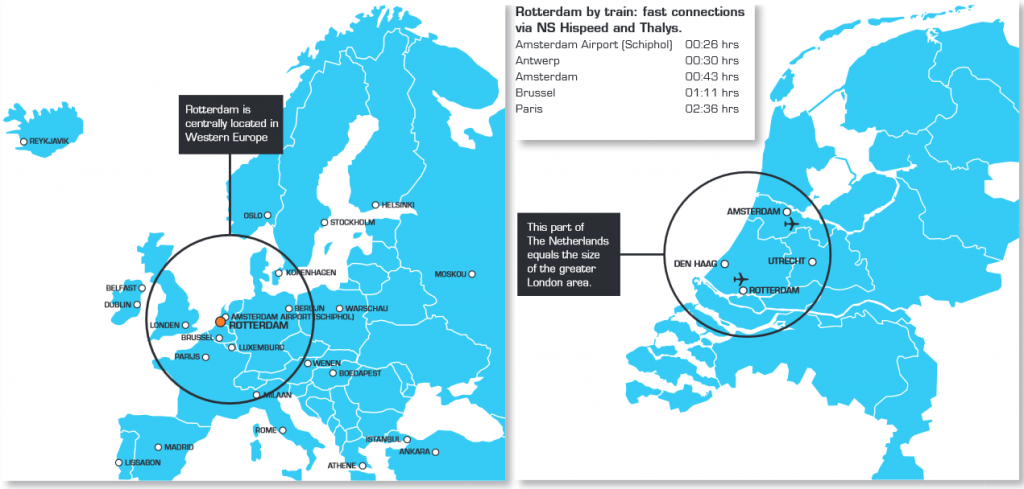 Despite its cosmopolitan style and facilities, Rotterdam's inner city is compact. The convention center, a large number of hotels, shopping area, most museums and many other points of interest are within walking distance. The Rotterdam Public Transport system comprises a network of bus and tramway services as well as a modern, efficient metro (underground) network. Almost all lines pass by Rotterdam Central Station, which is located 15 minutes walking from the convention center. Inexpensive tickets covering transport within the Rotterdam area are provided and they are available for one or more days.
---
Foreigners Attendees
---
To visit the Netherlands you will need a valid passport and possibly a tourist visa. More information can be found here. Before asking for an invitation letter at localchair.icwe2015@webengineering.org, please make sure that you are duly registered and have paid your registration fee.